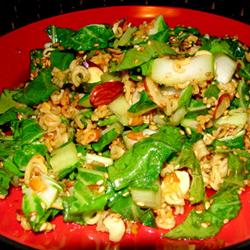 serves 8

1 head nappa cabbage or bok choy
1 bundle green onions
4 Tbsp. butter
1/3 cup sesame seeds
1 small pkg. sliced almonds
1 pkg. Ramen noodles, crumbled
1/4 cup vinegar
1/2 cup sugar
1/4 cup oil
2 Tbsp. soy sauce

Chop cabbage and onions and refrigerate in plastic bag.

Saute sesame seeds, almonds and noodles in butter unitl browned, refrigerate.

Boil vinegar, sugar, oil and soy sauce one minute the refrigerate.

Toss cabbage and nut misture with dressing just before serving.