Chocolate Ganache Tartlets with Sweet Cherries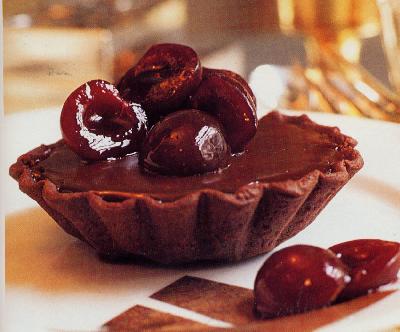 3/4 cup plus 2/3 cup well-chilled heavy cream
6 ounces fine-quality bittersweet chocolate (not unsweetened), chopped
6 cocoa tartlet shells (recipe follows)

Accompaniment: 24 to 30 dark sweet cherries, pitted, halved, and tossed with 2 teaspoons sugar


In a small saucepan bring 3/4 cup cream just to a boil. Reduce heat to low and add chocolate, stirring until smooth. Transfer 3/4 cup mixture to a bowl, reserving remainder in pan for glazing tartlets. Add 1/3 cup cream to mixture in bowl, stirring until ganache is combined well. Chill ganache until thick and cold, about 1 hour.


In a small bowl whisk remaining 1/3 cup cream until it just holds stiff peaks. With an electric mixer beat chilled ganache until light and fluffy, about 30 seconds (do not overbeat or it will become grainy). Remove tartlet shells from tartlet pans (use a thin, flexible knife to help remove shells if necessary). Fold whipped cream into ganache until combined well and spread in tartlet shells, smoothing tops.

Heat reserved chocolate mixture over low heat, stirring, until melted and just warm. Working quick­ly, with 1 tartlet at a time, spoon about 1 tablespoon chocolate glaze onto top, tilting tartlet to allow glaze to completely cover filling. Chill tartlets until glaze is set, about 30 minutes. Tartlets may be made 2 days ahead and chilled, wrapped in plastic wrap.

Serve tartlets with cherries. Makes 6 tartlets.

Cocoa Tartlet Shells



3/4 cup all-purpose flour

6 tablespoons confectioners' sugar

1/4 cup unsweetened cocoa powder

1/4 teaspoon salt

1/8 teaspoon baking powder

3/4

stick (6 tablespoons) cold unsalted butter, cut into bits

1 to 2 tablespoons ice water

Into a bowl sift together flour, confectioners' sugar, cocoa powder, salt, and baking soda and with a pastry blender or your fingertips blend in butter until mixture resembles coarse meal. Add 1 table­spoon ice water, tossing mixture with a fork until water is incorporated, and add enough remaining ice water, 1/2 tablespoon at a time, tossing to incorpor­ate, until a dough begins to form. Form dough into a ball and divide into 6 pieces. Form each piece into a ball and flatten to form a disk. Wrap each disk in plastic wrap and chill 30 minutes.

Preheat oven to 375° F.

Roll out 1 piece of dough between 2 sheets of plastic wrap into a 5-inch round (about 1/8 inch thick). Discard top sheet of plastic wrap and invert dough onto a 3 1/2-inch tartlet pan (1 inch deep), discarding remaining sheet of plastic wrap. Fit dough into pan and trim flush with edge of pan, pressing dough gently against side of pan. Prick bottom of shell with a fork and chill while preparing remaining shells. Make and chill 5 more shells with remaining dough in same manner.

Line shells with foil and bake on a baking sheet in middle of oven 10 minutes. Remove foil and bake shells until cooked through, about 5 minutes more (pastry will no longer be shiny). Cool shells in pans on a rack. Tartlet shells may be made 3 days ahead and kept in pans in airtight containers. Makes 6 coca tartlet shells.