Crispy Baked Lobster Bites
Makes 18 bites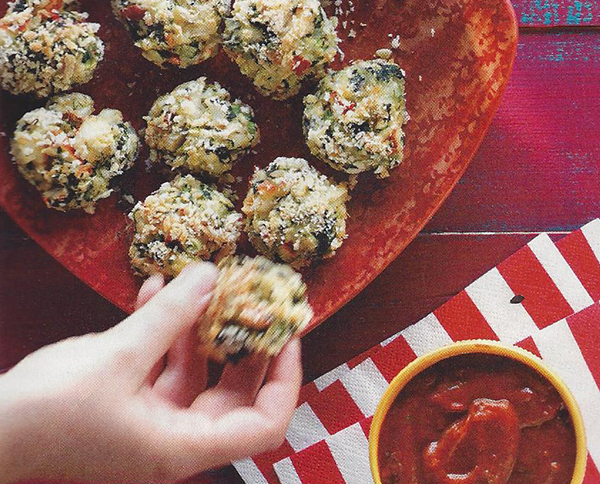 Ingredients:
2 thinly sliced green onions
1-1/4 cups whole-wheat panko bread crumbs, divided
3/4 cup frozen kale or spinach, thawed, drained and squeezed of excess water
1 cup shredded mozzarella cheese
1/3 cup cream chees, room temperature
3 TBS coarsely chopped fresh dill
1 TBS fresh lemon juice
1-1/4 cups finely chopped cooked and cooled lobster meat (about 6-1/2 oz)
Sea salt and pepper to taste
Olive Oil cooking spray

Instructionss:
Position oven rack in topo third of oven and preheat broiler to high. In a large bowl, combine onions, 3/4 cup panko, kale, mozzarella, cream cheese, dill and lemon juice. Fold in lobster, then season with salt and pepper to taste.

To a shallow dish, add remaing 1/2 cup panko. Scoop lobster mixture into 2 TBS portions. Dip each into panko, lightly pressing toi form rounded patties about 1/2 inch thick. Transfer to a large parchement-linced baking sheet nd mist tops with cooking spray.

Broil for about 6 minutes, until golden brown, checking often. Using a spatula, gently flip over, mist with cooking spray and broil for an additional 4 minutesm, until golden and heated through. Note: if browing too quickly, adjust the oven to 425 degrees and cook for about 10 minutes, turning once.

Serve with a warm tomato sauce on the side for dipping.