Haupia - Coconut Pudding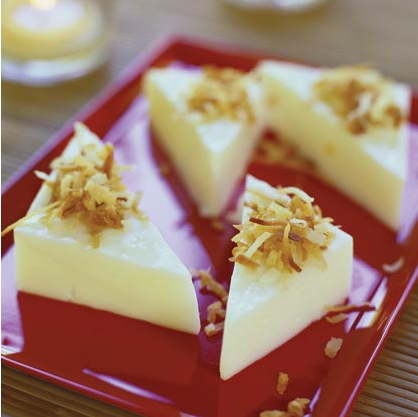 This coconut pudding, haupia, is a staple desert at every Hawaiian luau.
Ingredients:
Vegetable oil for oiling baking dish
1/2 cup sweetened flaked coconut
2 cups coconut milk
1 cup whole milk
6 tablespoons sugar
5 tablespoons cornstarch
1/2 tsp vanilla
Preparation:
1. Preheat oven to 325°. Spread flaked coconut on a baking sheet and bake until golden brown, 6 to 8 minutes.
2. Oil an 8-in.-square baking dish
3. Pour one cup of coconut milk into a saucepan. Combine sugar and cornstarch stirring into coconut milk. Heat over low stirring consistently until thickened.
4. Add remainder of coconut milk and whole milk and continue to heat until thickened. Pour into 8 inch square pan and chill until firm, at least one hour.
5. Cut haupia into 12 triangles and sprinkle each with toasted coconut.