Lamb Tagine with Chickpeas and Apricots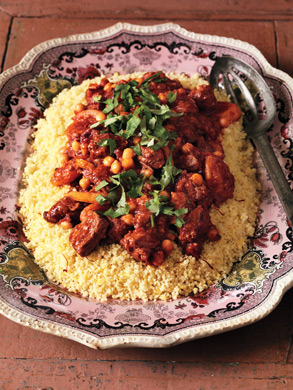 yield: Makes 6 to 8 servings

Braising an inexpensive cut like lamb shoulder in the Moroccan way transforms the meat into a thick, aromatic stew of meltingly tender meat.

Ingredients

3/4 cup dried chickpeas
5 garlic cloves (2 whole, 3 chopped)
1 large cinnamon stick, broken in half
2 tablespoons olive oil
3 pounds 1" cubes lamb shoulder
Kosher salt and freshly ground black pepper
1 large onion, diced
5 teaspoons Ras-el-Hanout spice blend (recipe below)
1 tablespoon chopped peeled ginger
1 cup canned diced tomatoes with juices
2 1/2 cups (or more) low-salt chicken stock
1/2 cup halved dried apricots
Steamed couscous
Chopped fresh cilantro


Place chickpeas in a medium saucepan. Add water to cover by 2". Let soak overnight.

Drain chickpeas; return to same saucepan. Add 2 whole garlic cloves and cinnamon stick. Add water to cover by 2". Bring to a boil, then reduce heat to medium and simmer until chickpeas are tender, about 45 minutes. Drain; set aside.

Meanwhile, heat oil in a large heavy pot over medium-high heat. Season lamb with salt and pepper. Working in batches, brown lamb on all sides, about 4 minutes per batch. Transfer lamb to a medium bowl. Add onion to pot; reduce heat to medium, season with salt and pepper, and sauté until soft and beginning to turn golden, about 5 minutes. Add chopped garlic, Ras-el-Hanout , and ginger. Stir for 1 minute. Add tomatoes and lamb with any accumulated juices. Bring to a boil. Add 2 1/2 cups stock. Return to a boil, reduce heat to low, partially cover, and simmer, stirring occasionally, until lamb is tender, about 1 hour 30 minutes.

Stir in chickpeas; simmer until heated through, about 10 minutes. Stir in apricots; simmer until heated through, about 5 minutes. Season with salt and pepper.

Spoon couscous onto a large, shallow platter, forming a large well in center. Spoon tagine into center. Sprinkle cilantro over.

Ras-el-Hanout

yield: Makes approximately 2 tablespoons
The name of this Moroccan spice blend—an exotic mix of sweet, savory, and spicy—means 'head of the shop," implying that it's the store's best blend.... more ›
subscribe to Bon Appétit
Ingredients

1 1/2 teaspoon coriander seeds
3/4 teaspoon cumin seeds
1/2 teaspoon crushed red pepper flakes
1 1/4 teaspoons ground cinnamon
1 teaspoon paprika
1/2 teaspoon ground cardamom
1/2 teaspoon ground ginger
1/2 teaspoon ground turmeric


Special equipment: A spice mill

print a shopping list for this recipe view wine pairings
Preparation

Toast coriander and cumin seeds in a small skillet over medium heat, stirring occasionally, until aromatic and slightly darkened, about 4 minutes. Transfer to a spice mill; let cool. Add crushed red pepper flakes. Process until finely ground. Transfer to a small bowl. Add remaining ingredients; whisk to blend. DO AHEAD: Can be made 1 month ahead. Store airtight at room temperature.