Bullock's Popovers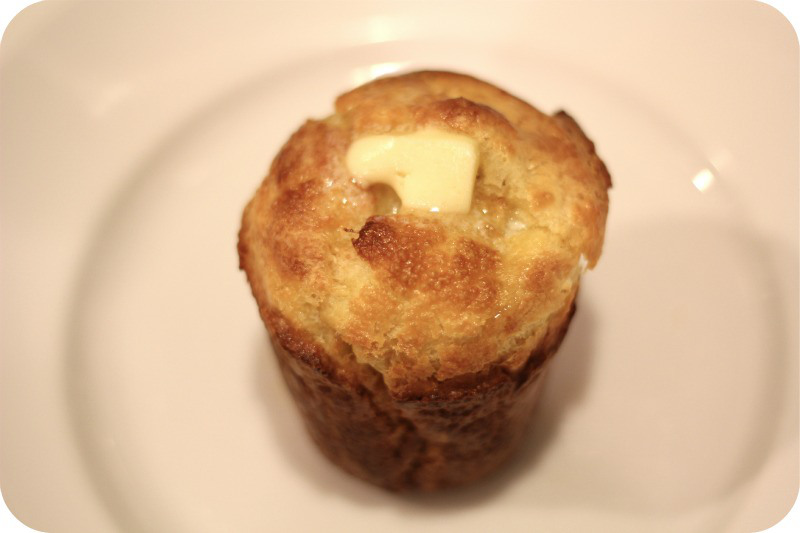 Taken from the L.A. Times
Makes about eight popovers
6 eggs
2 c. whole milk
2 c. all purpose flour
3/4 t. salt
6 T. unsalted butter, softened
2 T. melted unsalted butter for greasing ramekins or muffin pan
To Make the Popovers: Preheat your oven to 400 degrees Fahrenheit. Melt two tablespoons of butter and baste a muffin tin with it or eight ramekins. Grease well! Beat your eggs and milk together in a small bowl. In a separate medium sized bowl, whisk together your flour and salt.
Work butter into flour until adequately combined. Gradually add milk and egg mixture to flour mixture and blend with a wire whisk in between each addition. By adding the egg mixture in small amounts at a time and whisking in between, you will eliminate most lumps.
Scoop the batter into each muffin cup or ramekin, about 3/4 full. The more full, the higher and more puffy your popover will be. I believe mine were a little scant since I wanted to get at least 10 popovers out of my batch for dinner. If you are using ramekins, you will want to place them on a cookie sheet and then put the cookie sheet in the oven. Bake for about 40 minutes for an eggy version or about 50+ minutes for a crispier version, until golden.
Open your oven and gently poke each popover with the tines of a fork. Turn the oven off, leaving the popovers inside for 5 more minutes. Take out of the oven and gently release each popover using a butter knife to separate any stuck bits until they pop out.