Skewers au Gratin

Makes 12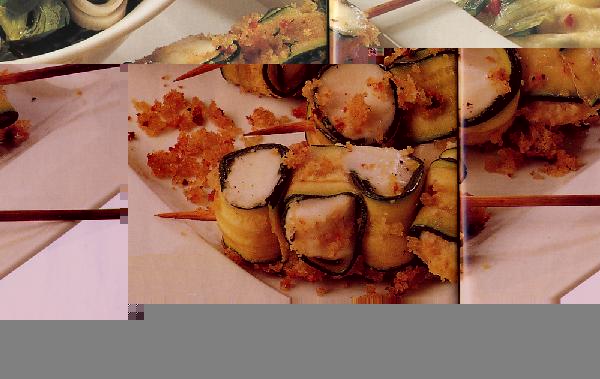 48 one inch cubes fresh mozzarella cheese (a 1 pound braid or two large balls)

3 medium zucchini
salt
8 slices fresh sandwich bread
6 basil leaves, chopped
1/4 teaspoon dried oregano
6 anchovy fillets, packed in oil
2 tablespoons estra-virgin olive oil
12 bamboo skewers soaked in water



Using a mandoline or sharp knife, slice the zucchini into long, thin slices and set aside. In a skillet over medium heat, sauté the zucchini with a pinch of salt, until soft. Carefully remove the zucchini from the pan and set aside.

Wrap each piece of mozzarella with 1 piece of the sautéed zucchini and set aside. Assemble 12 skewers by threading 4 pieces of the wrapped mozzarella on each stick.

Preheat oven to 300 degrees. Line a shallow baking dish with parchment paper, arrange the skewers in the dish and set aside. In a food processor, combine the bread, basil, oregano, anchovies, and olive oil, and season with salt and freshly ground pepper. Puree until well combined. Pour the bread mixture on top of the skewers and transfer to the oven to bake for 15 minutes, or until the cheese in melted and the bread mixture is golden.

Serve accompanied by a salad.